Casino Wiesbaden reopened in 1949 and thrived ever since. You will read more on the topic further in the article. There are details on games like roulette and poker, among others. We will also go into more information regarding the history of the complex as well as live casino action both off and online.
Wiesbaden Kurhaus Casino – One of the Oldest Casinos in Germany
Luck has been a permanent guest at Wiesbaden Kurhaus casino. We talk about its location at the heart of the historic spa town of Wiesbaden, abiding by the beautiful setting and existing in a genuinely stately ambience. Since 1949 the Spielbank is a topic of casino chatter, takes part in poker tournaments, offers gaming adventures and much more. This historic building welcomes you with its breathtaking entrance leading to a typical neoclassical interior.
The traditionally styled gambling hall is complemented by complex woodwork, crystal chandeliers, golden friezes and wood-panelled pillars. Such a classic setting, without doubt, creates an atmosphere for a night of sophisticated gambling fun. All visitors to the Spielbank Wiesbaden can expect to find over 180 state-of-the-art slot machines, blackjack, roulette, and poker tables. That includes one of the largest selections of poker games available in the Rhine-Main area, plus the regular tournaments. Once in the country, you can also try the trendy destinations in the online gaming world by visiting the best German gambling sites.
Wiesbaden Kurhaus Casino Details
The beautiful and elegant 38,000 square foot Kurhaus Wiesbaden casino features 180 slot machines and 20 gaming tables. The variety offers games such as Electronic Bingo, Electronic Roulette, and Video Poker. Besides that, the table games feature blackjack, French Roulette, and American Roulette. Kurhaus Wiesbaden also has two bars and a restaurant. Smoking is permitted throughout the entire casino floor and at the dedicated spacious smoking area. See other essential pinpoints in the table below.
| | |
| --- | --- |
| 📝 Established | January 01, 1949 |
| ⚙ Size | 38,000 sq/ft |
| 🎲 Table Games | 7 Roulette, 4 Blackjack, 9 Poker |
| 🎰 Gaming machines | 180+ |
| ⚔️ Tournaments | Yes |
| ⌛ Working Hours | Mon-Sat: 11 a.m. to 4 a.m. Sundays and Public Holidays: 12 p.m. to 4 p.m. |
| 💸 Admission Fee | €2.50 for Classic Games, Free for Gaming Machines |
Wiesbaden Kurhaus casino offers an opportunity to dress up for an elegant evening out as there is a dress code to adhere to. There is also a small entrance fee, but that doesn't bother the regular and loyal visitors. They thoroughly enjoy the time at the Kurhaus and make a swift return.
Many consider becoming a club member as there are various VIP club benefits. That includes invitations to special events, double win on selected days, extra chances of winning big, and club specials. Other surprises include free admission and a glass of Champagne. That special treatment resembles the best online casino bonus offers in Germany.
Spielbank Wiesbaden – From Card Games to Roulette and More
Casino Wiesbaden started its gaming journey by offering the first legit public card games destination in the late 1770s. Then roulette found its way to the gambling hall of the building eleven years later. Many musicians, poets, and authors came to Wiesbaden to try out their luck. The same happened to Fyodor Dostoyevsky. The legend mentions that he gambled away all his belongings in 1865, which then became the reason for writing his famous novel 'The Gambler'.
Other than taking a spin at the roulette, considered to be the fairest game of chance in the world, you can try beating the bank at blackjack or hone your bluffing skills at poker. In case you are more of a slot machines player, head on to the Kurhaus colonnades. Directly on the grounds of the spa building, you can also choose from poker machines, bingo, video slots, and many more.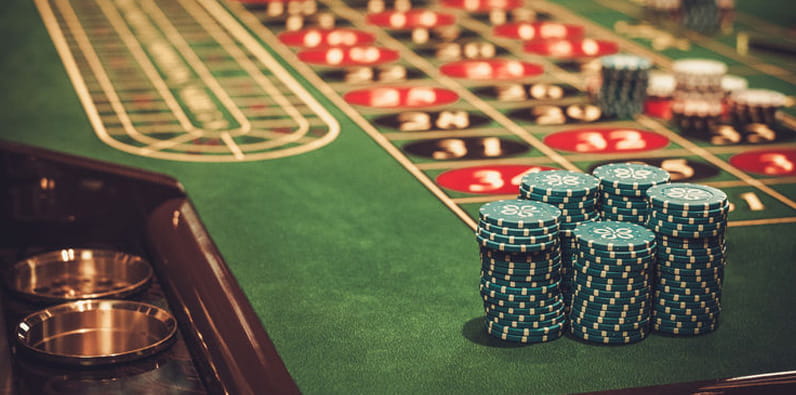 The latest generation of gaming machines at Spielbank Wiesbaden await with stakes of 50 cents which is all you will need to win big potentially. The daily prizes go through the roof with over €2 million each day. You can experience such an authentic gaming hall atmosphere to its fullest online as well, at Germany's best live casino sites.
Roulette at Kurhaus Wiesbaden Casino
Roulette has a special place at Kurhaus Wiesbaden Casino with the famous story about how Dostoyevsky wagered and lost his life savings on a single spin. Naturally, then, this roulette has been retired from the gaming floor and preserved as a memento of his recklessness. Such tales bring more and more visitors. Roulette games even become part of conference programs as a unique attraction. On top of that, there are demonstrations and practice games for those of you not yet familiar with the rules.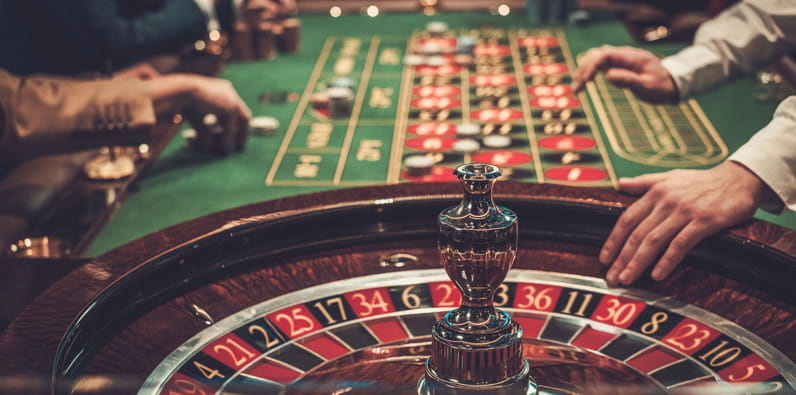 Guests can try French and American Roulette. The Spielbank Wiesbaden also hosts a specific feature – the Wiesbaden Super Roulette, a patented invention of the gaming technician Gerhard Schmulder. Here without additional bets, you can win five times as normal. You can see five reels with numbers 0 to 36 above the permanent display giving you the feeling of a slot machine. You can also browse for some real roulette action from the comfort of your home or while on the go at the best roulette sites in Germany.
Casino Wiesbaden Poker Games
Wiesbaden Pokerarena is the largest in the Rhine-Main area and hosts two main types of poker on several tables. Players can try these cash games seven days of the week from 6 p.m to 3 a.m. Poker lovers can pick from Omaha Pot Limit, Texas Hold 'em No Limit and five tournaments per week. The number of participants in the latter does not go over 50, and there is no entrance fee. On top of that, all tournaments buy-ins are paid out at 100%. Here is what you can play at Kurhaus Wiesbaden casino:
75+5 tournaments – on Tuesdays, Wednesdays, Thursdays and Sundays.
200-euro Monday tournaments – every Monday.
500-euro Deep Stack Sundays – played on the last Sunday of every even-numbered month.
X-Mas Poker Festival – held for one week in December and consists of five tournaments with buy-ins of between 200 and 1,000 euros.
Casino Wiesbaden Slots
Players can enjoy a reel-spinning adventure at the north part of the Spielbank Wiesbaden building, at the Kurhaus colonnade or the fountain hall. It is the longest columned hall in Europe with a length of 129 m or 423 ft. When in the gaming machines area, you will be able to pick from over 190 slots. You can try your luck at the various multi-game machines after 11 a.m. There are Electronic Bingo, TouchBet Live Roulette and numerous jackpot machines – Cash Connection, Lightning Link, and Duo Fu Duo Cai. Casino Wiesbaden hosts the latest generation of gaming machines. You can see such approach at the top online slots casinos in Germany.
Kurhaus Wiesbaden – History
The popularity of Wiesbaden's thermal springs dates all the way back to the 1700s. It was a famous SPA destination attracting many wealthy visitors who inquired about other forms of entertainment. Then, in 1771 the first regulated card games were licensed. Wiesbaden managed to combine wellness and gambling in one, and by 1810, they boasted a monumental spa-house with a casino. There are rumours that some of the Kurhaus Wiesbaden casino guests were Napoleon and Dostoyevsky.
The Wiesbaden Kurhaus casino became a sensation and outgrew the original 1810 spa-house becoming a more significant building from 1905 to 1907. Kaiser Wilhelm II himself attended the grand opening of the new building. There was enough space for banquets, balls, concerts and a lavish gambling hall. Additional restructuring throughout the years ended in placing the casino in the former wine hall in 1949.
In the 1980s, modern tech entered the building, causing extensive renovation. The architecture was not the only thing that has changed – the gambing laws in Germany did as well. Keep in mind that separate regions in the country have different gambling restrictions.
FAQ on Casino Wiesbaden
Casino Wiesbaden is a remarkable landmark in the heart of Hesse, Germany. The atmosphere has been preserved for hundreds of years and gives you the chance to play where Napoleon and Dostoevsky have tried their luck. We have gathered the most frequent enquiries regarding Kurhaus Wiesbaden. Check them out in our short and informative FAQ section.