Johnny Chan is one of the most recognizable poker players in the world. The 10-time World Series of Poker (WSOP) bracelet winner, and back-to-back champion of the 1987 and 1988 WSOP Main Events, is a Poker Hall of Famer and true legend of the game.
However, while his poker compatriots like Phil Hellmuth and Erik Seidel have been busy playing either High Stakes Duels or high rollers respectively, Chan hasn't actively spent time in the poker spotlight as of late. That recently changed when Chan was a featured guest on the PokerNews Podcast to promote his new Texas cardroom and upcoming tournament series.
During the exclusive interview, Chan not only updated poker fans on what he's been up to as of late, but also hinted at what may come in the future including the possibility of playing more televised high-roller poker events, and maybe even a rematch against Hellmuth, the man who stopped his Main Event three-peat back in 1989.
Opening a Room in Texas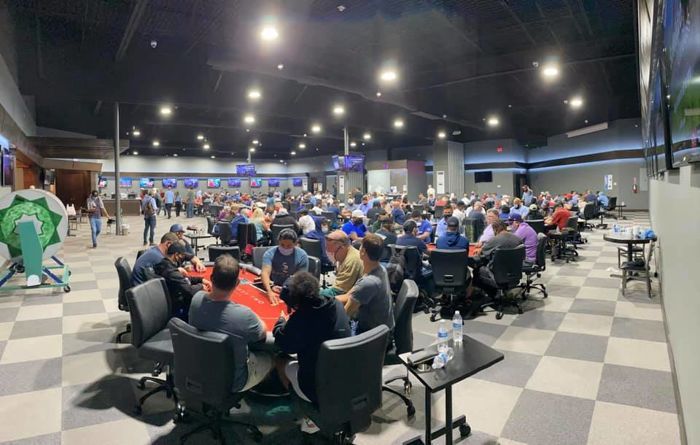 In recent years, Texas has become a hotbed for poker, which has been evidenced by the massive turnouts on the Lone Star Poker Series. Cardrooms across the state have popped up, but none are as big as Chan's, aptly named Johnny Chan's 88 Social, formerly known as 52 Social.
"We are the biggest poker room in Texas and have the best action in Texas in [pot-limit] Omaha," Chan said with pride. "The best Omaha action in the world. I mean anytime you walk in we get $5/$10 games going around the clock. If you're looking for action here's the place, Johnny Chan's 88 Social, don't you ever forget it as long as you live."
On a run-of-the-mill Monday afternoon, Poker Atlas showed Chan wasn't blowing hot air. At the time, the 30-table room, which is open 24/7 and requires players be 21+ to compete, had nearly 20 games running. The spread of games run from $1/$3 NLH all the way up to $200/$400 Mix.
"The best action in town and the whole state of Texas," said Chan.
So how did the longtime poker pro find himself in Texas nearly 1,500 miles away from the glitz and glamour of Las Vegas?
"I went there and looked at it, and they didn't know how to run their poker room," he explained. "They treat their customers like they're not even there. Just mismanagement, so I figured if I open a nice poker room, bigger, and know how to treat the customers and how to treat the employees, maybe I could take their business away. Sure enough, look where I'm at now."
For more on Johnny Chan's 88 Social, visit them on PokerAtlas here.
A Hellmuth Rematch?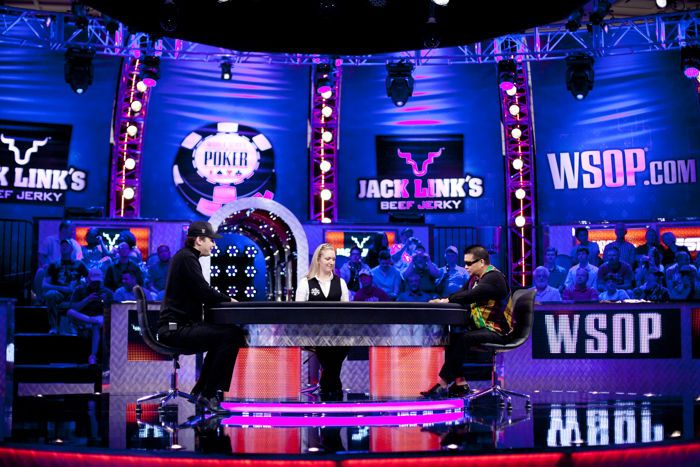 While on the PokerNews Podcast, Chan also shed some light on what the future might hold. Right now, he's fixated on ensuring his poker club is a success, but seeing as they're off to such a good start, don't be surprised to see him back in action, and maybe even back in the poker spotlight.
"I'm going to be back in the high rollers and High Stakes Poker, Poker After Dark, whatever they have in Vegas. I love Vegas," he said. PokerNews then asked about the possibility of a rematch between him and Hellmuth, maybe even on High Stakes Duel in which the "Poker Brat" has been dominating.
"Absolutely," Chan said seemingly up for the challenge. "Back in 1989, I think we can do something about that. Maybe next year. That's going to be a good match. You can bet on me."
Chan also offered his thoughts on the Poker Hall of Fame, which will see a lone inductee this fall during the 2021 WSOP.
"There's a lot of them," Chan said when asked if there's anyone worthy of induction in his mind. "I know a lot of old timers. Like a Patrik Antonius. He's my man."
While a Hellmuth vs. Chan rematch would no doubt be relished by poker fans, a first-time duel between Chan and Antonius would no doubt have the masses salivating. Would Chan be up for it?
"Any match I'd be on would be a good one to watch," is all he said when asked.
Johnny Chan's Master Classic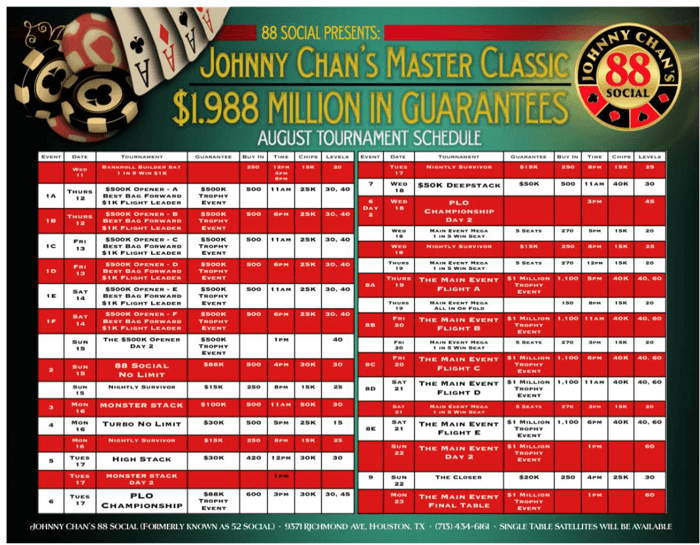 From August 11-23, Johnny Chan's 88 Social will play host to the inaugural Johnny Chan's Master Classic, which will feature nine events offering $1.988 in guaranteed prize pools. Not only that, poker fans may have the opportunity to compete against Chan himself.
"I play here almost every day," he told PokerNews. "We're going to have a big tournament in August, the 11th through the 23rd. Almost a $2 million GTD. We're going to guarantee $1.988 million, the year I won the World Series of Poker Main Event. It's going to be a home run. I think everybody from everywhere is going to be here."
Smartly, Chan has tied the year he last won the WSOP Main Event, which was 1988, into this "classic" series by offering $1.988 million in guarantees. That includes the $1,100 buy-in, $1 million GTD Main Event.
"I'm going to turn one of the Texans into a millionaire," Chan said with a laugh. In between, there are tournaments with buy-ins as low as $250.
"We want players of all walks of life and all limits to come here to play," Chan concluded. "It doesn't matter how high you play or how small you play. We've got it all. You name it, we've got it."
Listen to what else Chan had to say in the latest episode of the PokerNews Podcast.