This week we're focused on a typical cash game spot where you're in position on the Button against a tough player in Early Position after 3-Betting their opening raise.
Your range in this spot is "polarized", meaning you are 3-betting the early position player with both some of the very strongest starting hands as well as a mix of semi-bluffs including suited combos containing an Ace, suited broadways, and some middle suited connectors. The early position player's range is much more condensed to just pairs, some suited broadways, and AK. Their range is also capped in this spot and does not include any combinations of AA/KK, while your range can still contain all of those combinations.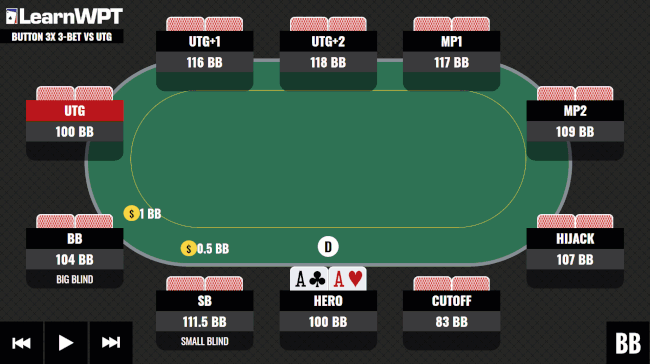 Being in position with the nut advantage on most flops means you will be c-betting with a very high frequency on the flop. With the early position player's range consisting mostly of suited broadway cards and pairs, the only flops that are super dangerous for you are coordinated double broadway flops or T-9-x and 9-8-x flops. On most other flops you will have a significant advantage as our opponent will be out of position, and unless they flop a set, often with a hand that is quite vulnerable to the top end of our range. You can and should be c-betting small on all other boards, even ones that might otherwise seem quite coordinated and dangerous in other scenarios.
Due to this same concept of having a nut advantage you also will get to fire again on the turn quite frequently, especially with any reasonable sort of chance at improving on the river like turning a flush or straight draw. This really puts the early position player in a tough spot with all but the strongest hands in their range. The exception to this would be on the turn with hands that have a lot of showdown value but are vulnerable to a turn check-raise, such as second pair hands without a significant draw to improve on the river.
Our GTO opponent will try to combat your frequent continuation betting by utilizing a check-raising strategy on the flop. It is important that you not give up too easily to check-raises against tough opponents, particularly with hands that have significant hard equity when they hit on future streets.
To see more examples and test your skills, you can play through five free solved hands from this scenario.
To access the free five hands, visit this page.
Regular play on the WPT GTO Trainer will help you adjust your decisions closer and closer to GTO strategy.
You don't have to be the world's best player to use GTO Strategy, and thanks to the WPT GTO Trainer, now you don't have to buy expensive software or have expert level knowledge to study GTO.
Why use the WPT GTO Trainer?
The WPT GTO Trainer lets you play real solved hands against a perfect opponent in a wide variety of postflop scenarios for cash game and tournament play.
If your goal is to be a tough poker player then you should try the WPT GTO Trainer today.
Register a free account here (it only takes your e-mail address to begin) to play hands and see true GTO strategy in real-time.
The WPT GTO Trainer has over 4 billion unique solved flops, turns and rivers that are fully playable.
As you make decisions in a hand, you receive instant feedback on the specific EV loss (if any) and Played Percentage for every action you take as compared to GTO strategy.
The full selection of scenarios for the WPT GTO Trainer are only available to members of LearnWPT, however we're giving PokerNews Readers free access to the Trainer on a regular basis with the WPT GTO Hands of The Week.
Use this series of articles to practice the strategies you learn on LearnWPT (or at the table) and test your progress by playing a five-hand sample each week.