The gambling laws in Oklahoma can be confusing even for seasoned gamblers. This is because there are many things that you need to consider, such as the gambling age, the legal games, and the legitimate casinos. For example, different states have different laws when it comes to legal age, and they often differ from the gambling age requirements around the world. If you're planning a holiday to the Sooner State and you're a fan of gambling, you should definitely read our full article.
Gambling Laws in Oklahoma – Is Gambling Legal?
Yes, gambling is legal in Oklahoma, but there are many things that you need to know before grabbing your ID and your wallet. Unlike states such as Nevada, Oklahoma is not so popular among gamblers. Still, the gambling industry in the Sooner State is surprisingly developed because there are over 50 tribal casinos that are incredibly successful and bring nearly $3 billion tax income for the local government each year. Some of the biggest gambling venues in Oklahoma are WinStar World Casino, Grand Casino Hotel and Resort, and Hard Rock Hotel and Casino.
If you're at least 21 years old, you can play many different gambling games in those casinos that you won't be able to find anywhere else in the state, such as slots and poker. As we've already mentioned, all of the casinos in Oklahoma have tribal sovereignty, which means that the state has limited ability to regulate the gambling activities there. The bodies that regulate such gambling venues are the Tribal Gaming Commission and the National Indian Gaming Commission. In the following paragraph, we'll take a look at all gambling activities you can enjoy in Oklahoma.
All Legal Gambling Activities in Oklahoma
When we think of gambling games, we think of slots, blackjack, baccarat, sports betting, roulette, poker, and many other exciting activities. Unfortunately, the new Oklahoma gambling laws are pretty strict. The only gambling activities you can legally participate in are horse racing and charitable games, such as bingo and different raffles. Luckily, you can still enjoy slots and poker in different tribal casinos. To make it easier for you to understand, we've created a table with all the different activities that Oklahoma's gambling laws allow.
| Gambling Type | Legal Status |
| --- | --- |
| 🎰 Casino Games | ⚖ Legal |
| 🐴 Horse Race Betting | ⚖ Legal |
| 🥇 Lottery | ⚖ Legal |
| 💰 Charitable Gambling | ⚖ Legal |
| 🏈 Sports Betting | ⚖ Illegal |
| ⚽ Online Sports Betting | Illegal (With Exceptions) |
| 📱 Online Casinos | Illegal (With Exceptions) |
As you can see, there are quite a few gambling activities that the new Oklahoma gambling laws permit. However, you should know that there aren't many casino games that you can play in tribal casinos besides slots, blackjack, and poker. For example, you can't play roulette and dice games anywhere in the state. Sports betting is also completely illegal. Fortunately, many OK gamblers who are at least 18 years old can participate in the Oklahoma Lottery. However, there's a lot to cover regarding online gambling, and we'll do it in the next paragraph!
Oklahoma Online Gambling Laws
The situation with the Oklahoma online gambling laws is relatively complicated. There are no officially regulated online casinos in the state, mostly because of the tribal casinos and their influence. There is a monopoly of land-based tribal gambling venues in Oklahoma, and online casinos and sports betting sites would likely stay illegal for a while.
If the gambling laws in Oklahoma would openly permit and regulate online operators and sports betting sites, it would be disastrous for the tribal casinos. Fortunately, Oklahoma gamblers can enjoy playing their favorite games at many top online casino sites for US players around the world that have a much greater variety of gambling activities than their land-based counterparts. Here are some of the casino games you can play at offshore gambling sites.
Slots
Poker
Baccarat
Roulette
Blackjack
Sic'Bo
Craps
Bingo
Solitaire
Virtual Sports
You can enjoy many other gambling activities at offshore online casinos, such as backgammon and scratch cards. You might be wondering if that's even legal. Fortunately, even though the Oklahoma online gambling laws state that casino sites are illegal, you can still access many reputable platforms that accept OK players. However, the legal gambling age in Oklahoma would likely still be in power.
For example, in NY, the situation is almost the same, and the New York gambling laws are pretty flexible when it comes to offshore online casino play. However, there are a few things that you need to know about online casinos before you create an account at the first one you see.
Choosing Safe and Secure Online Casinos in Oklahoma
When looking for an online casino to play at, you should always prioritize safety and security. You don't want to risk your funds while playing at shady gambling sites. At bestcasinosites.net, we always aim to ensure that our readers have the best gambling experience, and that's why we'll provide you with our checklist. In the list below, you'll find everything that an online casino in Oklahoma has to have to be safe for real money play.
Legitimate Licensing
SSL Encryption
Popular Payment Methods
RNG Certificate
Fair Bonus Terms
Reliable Customer Support
Even though this list might seem a bit intimidating to newbies, it won't take more than 10 minutes to learn if the given online casino has all the things listed. It's also a good sign if the chosen operator supports responsible gaming organizations, such as GamCare, GamStop, BeGambleAware, and Gamblers Anonymous. Gambling sites that offer games by top casino software developers are also usually safe to play at.
History of Gambling Laws in Oklahoma
Oklahoma gambling laws have had many ups and downs in the last two centuries. Ever since the 1800s, the state has been in limbo when it comes to wagering. It seems that Native American tribes have always loved gambling, and they used to love betting on fights and horse races. In 2021, those activities still draw a lot of attention!
Many different forms of betting were spiking in popularity until the government placed strict regulations on gambling activities in the early 1900s. Perhaps the only law that hasn't changed is the legal gambling age in Oklahoma. To help you get a better grasp of the history of gambling laws in Oklahoma, we've created a thorough timeline.
| | |
| --- | --- |
| ⌛ 1858 | Gambling in Oklahoma was born, and residents began placing bets on horse races and fights. |
| ⌛ 1920 | Strict regulations were placed on gambling venues across the state. |
| ⌛ 1946 | More than half of the gambling venues across the state have closed doors. |
| ⌛ 1982 | Horse racing was legalized. Oklahoma has permitted the opening of three racinos and the popular Fair Meadows Race Track. |
| ⌛ 1992 | Charitable bingo and raffles have been legalized, and many small gambling venues have opened doors. |
| ⌛ 1994 | Poker and table games were legalized and popularized in WinStar World Casino. |
| ⌛ 2004 | Lottery games were finally legalized, and the Oklahoma Lottery was founded. |
| ⌛ 2012 | An attempt to legalize and launch an online poker room was made. |
| ⌛ 2016 | Daily Fantasy Sports bills were introduced but were dropped because of tribal interests. |
| ⌛ 2018 | Online sports betting legislation fails. |
As you might have noticed in the table, Oklahoma has been actively trying to introduce different types of gambling to OK residents. It seems that the heavy tribal influence is one of the reasons why the state can't legalize online casinos and follow the global casino industry trends. Nevertheless, there are still many games that you can enjoy at offshore casino sites that the Oklahoma online gambling laws don't regulate.
Conclusion About the Future of Gambling Laws in Oklahoma
As our article about the new Oklahoma gambling laws is nearing its end, we would like to summarize everything we've learned so far. There are quite a few things that you should know about the legal gambling situation in Oklahoma, but the most important one is that there are many gambling activities that you can enjoy while you're in the state. You can play slots, blackjack, poker, bingo, and a wide range of charitable games at the Sooner State's tribal casinos.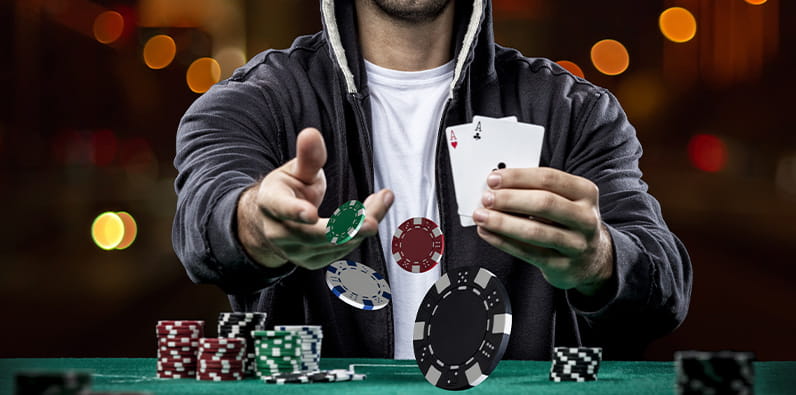 However, the Oklahoma online gambling laws aren't very active when it comes to online casinos. This means that OK gamblers can enjoy playing their favorite games at the top online gambling sites for US players without having to worry about anything! The future of gambling laws in Oklahoma is a mystery, but we believe that gamblers will keep on demanding that online casinos and sports betting sites are legalized.
Frequently Asked Questions About the Oklahoma Gambling Laws
We're reaching the end of our informative article, and it's time for us to look at the most frequently asked questions about the Oklahoma gambling laws. We have come across many commonly raised queries by OK gamblers, and we've had our experts answer them for you! Let's dive into the action!