The fifteenth Super MILLION$ final table of season two is set, and what a star-studded final table it is. Nine elite tournament poker players will descend on GGPoker from 6:00 p.m. BST on October 19 and fight it out for a $267,285 top prize.
Isaac Haxton leads the way at the restart. His lead is rather narrow plus two other former Super MILLION$ winners are out to stop him in his tracks.
Super MILLION$ Season 2 Episode 15 Final Table
| Place | Player | Country | Chips | Big Blinds |
| --- | --- | --- | --- | --- |
| 1 | Isaac Haxton | Canada | 2,226,062 | 74.2 |
| 2 | Christian Rudolph | Austria | 2,049,301 | 68.3 |
| 3 | yfii-bestcrypto | Israel | 1,899,598 | 63.3 |
| 4 | Aliaksandr Hirs | Belarus | 1,725,756 | 57.5 |
| 5 | Ramiro Petrone | Uruguay | 1,698,156 | 56.6 |
| 6 | Sergei Denisov | Russia | 811,781 | 27.1 |
| 7 | Artur Martirosian | Russia | 688,896 | 23 |
| 8 | Joakim Andersson | Malta | 681,741 | 22.7 |
| 9 | Fabiano Kovalski | Brazil | 518,709 | 17.3 |
Watch This Star-Studded Final Table Unfold
Who will win this week's Super MILLION$? Watch the final table action here!
Haxton returns to the action armed with 2,226,062 chips, the equivalent of 74.2 big blinds. The partypoker-sponsored pro has been in similar positions several times before, including on July 7, 2020, when he went all the way and took down the Super MILLION$ for $393,262.
Surprisingly, Haxton did not buy into this tournament direct, instead, he qualified via a $525 satellite. Now he finds himself out in front at the final table.
Christian Rudolph has more than $8.1 million in winnings at GGPoker alone, yet he is still waiting his first Super MILLION$ title. Rudolph's best finish in this high-stakes event is a runner-up one on November 1, 2020, which netted him $249,145. The WSOP bracelet winner sits down with 2,049,301 chips, or 68.3 big blinds.
GGPoker's Dan Bilzerian to Play $100,000,000 Heads-Up Poker Match in Las Vegas?
Third place at the start of the final table is a relative newcomer. Israel's "yff-bestcrypto" entered one Super MILLION$ during season one, and failed to reach the money place. Their only attempt of season two has seen them reach the final table with 1,899,598 chips (63.3 big blinds). Navigating their way to the final gives the Israeli a legitimate chance of beating their best GGPoker prize, which weighs in at $54,537. A seventh-place or better finish tonight achieves that goal.
Belarusian Aliaksandr Hirs is another finalist who won their seat via a GGPoker satellite, albeit a $1,050 buy-in version. That satellite win resulted in Hirs making his first Super MILLION$ appearance of the season. The last time Hirs found himself in this spot, he finished seventh for $69,535. The fact he has 1,725,756 chips (57.5 big blinds) suggests Hirs may go deeper this time around.
Petrone Cracks Kings to Reach Final Table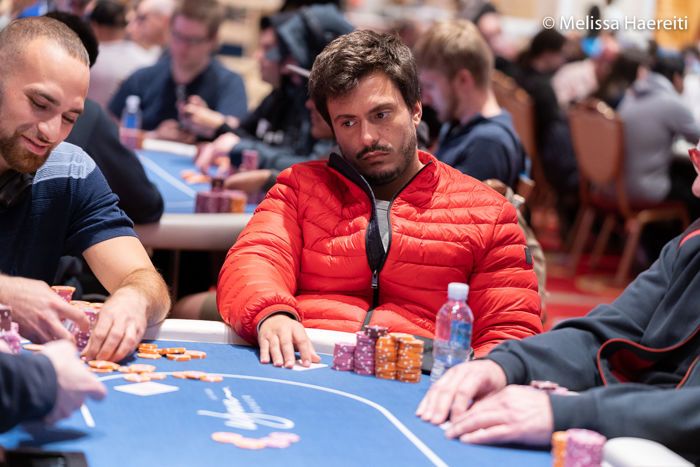 Making his second final table of the season is Ramiro Petrone, who calls Uruguay home. Petrone has a pair of third place finishes to his name, and an eighth-place exit. Petrone resumes his quest for glory in the middle of the pack with 1,698,156 chips (56.6 big blinds). Part of his stack used to belong to Ole Schemion, but Ramiro's ace-seven cracked the talented German's kings.
There is quite the gap between fifth-placed Petrone and Sergei Denisov in sixth. Denisov, a $1,050 satellite winner, has played in 14 of the 15 Super MILLION$ during this second season. However, this is his first in the money finish. Denisov has plenty of work ahead of him if he is to at least match the third-place finish he enjoyed on May 30, 2021, because his stack only has 811,781 chips (27.1 big blinds).
Only three players have fewer chips than Denisov and his fellow countryman, Artur Martirosian, is one of them. Martirosian, a two-time Super MILLION$ champion, needs a fourth-place of higher finish to break through $18 million in winnings at GGPoker. His quest is made more difficult by the fact Martirosian sits back down with only 688,896 chips (23 big blinds), but Super MILLION$ finalists have come back from more precarious positions in the past.
You'll Want Bad Beats at GGPoker With The New Bad Beat Jackpot
Season 2 has not been overly kind to Joakim Andersson. He is showing a profit from his 14 appearances, but he has been unable to reproduce the incredible form that saw him become the player of the season last year. During Season 1, Andersson won two events, reached eight final tables, and cashed 18 times for $3,837,770. The Malta-based Swede has a shade over $375,000 in winnings this season, and is looking to vastly improve that tonight. His 681,741 stack (22.7 big blinds) makes that task more difficult, but if anyone can turn things around it is Andersson.
Finally, bringing up the real is Brazil's Fabiano "MarkyAurelio" Kovalski, who needs sixth-place or better for his best-ever score at GGPoker. This is only the second time Kovalski has cashed in a Super MILLION$ event, so you can bet your bottom dollar he will make the most of the experience. His 518,709 chips (17.3 big blinds) do not leave a lot of room to manoeuvre, but that could be a blessing in disguise because it means his decisions are a little simpler.
Super MILLION$ Season 2 Episode 15 Final Table Payouts
| Place | Prize |
| --- | --- |
| 1 | $267,285 |
| 2 | $208,738 |
| 3 | $163,016 |
| 4 | $127,308 |
| 5 | $99,422 |
| 6 | $77,645 |
| 7 | $60,637 |
| 8 | $47,355 |
| 9 | $36,982 |