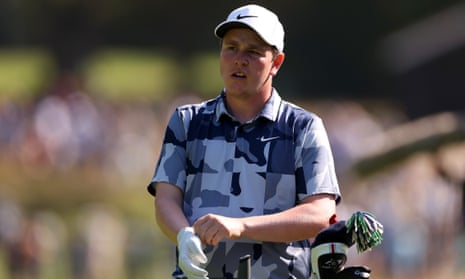 Robert MacIntyre heckled by spectator at Wentworth who lost bet on golfer
MacIntyre: 'He told me the amount he had riding on it'
Meronk in contention on nine under after Ryder Cup 'anger'
Golf's potentially troublesome relationship with gambling has come to the fore again after Robert MacIntyre revealed a spectator at Wentworth's PGA Championship made plain how much he had riding on the Scot's performance.
The topic has been a hot one on the PGA Tour after the Masters champion, Jon Rahm, said he hears shouts relating to betting outcomes at every tournament. Now MacIntyre, who added a 69 to Thursday's 72 on the West Course, has detailed a similar theme on the DP World Tour.
"There's obviously gambling going on in the game of golf nowadays and some people ride a lot of money on it and, unfortunately, he lost today," said MacIntyre about a gallery member who shouted on the 17th hole. The 27-year-old explained the bet related to the winner of his three-ball, which also included Justin Rose and Matt Fitzpatrick. MacIntyre outscored the English duo in round two.
"And he told me the amount he had riding on it," MacIntyre said. "I actually spoke about that to someone a few weeks ago, it might even have been Jon Rahm, about the heckling on the PGA Tour. It's all about gambling nowadays and I said to [MacIntyre's caddie] Greg walking to the 18th tee: 'Be switched on as this guy could throw anything at us here, so keep an eye on him and do your job.'"
At a tournament in Illinois, spectators were ejected after gambling shouts directed at the world No 7, Max Homa.
Adrian Meronk's 68 placed him firmly in contention at nine under par. The Pole arrived at Wentworth with a point to prove having been overlooked for Ryder Cup selection by Luke Donald, Europe's captain. "I'm trying to turn all that disappointment and anger into motivation," said Meronk.
"I have had a lot of support. From all the players, coaches, staff and spectators, which has been very encouraging. The shouts from people in Polish have been saying I should be on the team, I deserved it and I am good enough. I know all that, but it's nice to have that support from different people."
Meronk said he had changed approach when it comes to watching the meeting of Europe and the US from afar. "If you had asked me two weeks ago, I would have said I wouldn't be watching it," he said. "But I will definitely watch it. It's still one of the greatest tournaments in golf."
Explore more on these topics