We are three episodes into the new PokerStars show Mystery Cash Challenge and Alexandra Botez is running the game.
The professional chess player and streamer won the first two rounds of the uniquely formatted challenge. At the start of the third round, she was tasked with winning four of the next nine hands, guaranteeing additional fireworks.
Each episode of Mystery Cash Challenge is made up of ten hands. The first nine hands are €25/€50 cash game hands played pot limit preflop and no limit postflop. The twist is that for every hand a player wins, they are awarded a token. One token is required to play the final tenth hand of that round with the player in possession of the most tokens starting the final hand with the button.
That final hand is a €100 ante bomb pot, the winner of which gets to draw one mystery bounty and one mystery challenge. Botez drew a €500 bounty after winning round one and a €5,300 EPT ticket in round two. However, for the viewers, the challenges are where the real fun is.
The first challenge that Botez drew hit Parker Talbot on whom Botez bestowed the challenge. He was forced to remain silent during the second episode or pay €100 to every player at the table.
The second challenge, which was active during Episode 3, was for Botez herself. If she could win four of the nine qualifying hands, she would get to draw an additional bounty envelope.
Standings at the Start of Round 3
| Rank | Player | Stack | Profit | Bounties |
| --- | --- | --- | --- | --- |
| 1 | Alexandra Botez | €25,175 | +€15,175 | +€500 cash, €5,300 EPT ticket |
| 2 | Parker Talbot | €13,150 | +€3,150 | – |
| 3 | Sam Grafton | €9,700 | -€300 | – |
| 4 | Griffin Benger | €10,000 | -€3,100 | – |
| 5 | Maria Ho | €9,925 | -€4,075 | – |
| 6 | Fabiano Kovalski | €9,150 | -€10,850 |   |
Early Rounds
With James Hartigan and Joe Stapleton presenting, the round got off to an easy start with Talbot getting everyone to fold to his preflop raise on Hand #1, winning his token to the bomb pot, and immediately enjoying his reinstated table-talk privileges.
On Hand #2, Botez started getting tricky with a limped 7♠2♠ under the gun. Action folded round to Sam Grafton in the small blind who decided to get tricky too, putting in a call with A♠K♣, while Griffin Benger got to see the flop for free from the big blind with Q♥9♦.
The blinds checked to Botez on the flop of 6♦10♦5♦, Botez tossed €75 into the middle and Grafton folded. Benger called, only to fold to a €200 bet on the turn giving Botez her first hand, her token, and the joy of showing a bluff with seven-deuce.
"You have no idea how badly I played my hand," Grafton said. Adding, after some banter with Talbot, "She's got me rattled."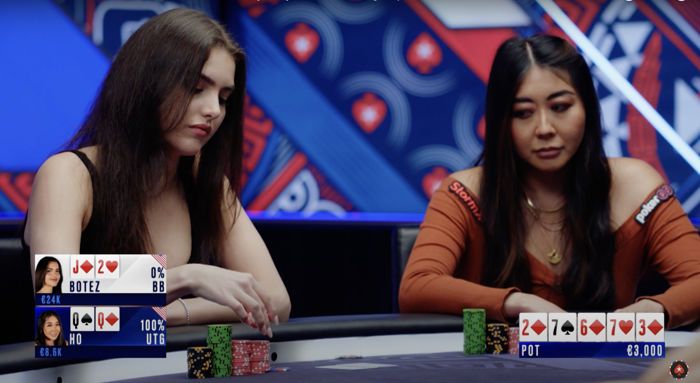 Grafton was still lamenting his play when Maria Ho raised on Hand #3 with pocket queens and he called with J♥9♦ on the button along with Botez and Benger in the blinds. He and Benger sensibly folded to Ho's bet of €400 when they missed the flop. Botez, who had caught bottom pair with a deuce, reraised to €1,200 and got a call. The turn went check-check and Ho check called Botez on the river.
"Stop taking my money," Ho said.
"This time, I think you're taking mine," Botez replied, turning over bottom pair. Ho raked in the €6,000 pot and the bomb pot token.
Middle Game
The middle game saw Botez slow down as her four-of-nine challenge started to pull away from her. She took one more shot against Grafton in Hand #4, but Grafton's pocket sevens beat her pocket deuces on the river. With another €950 of her profit gone, Botez took a breather for a few hands.
Fabiano Kovalski—down €10,850 at the start of this episode—put the straddle on at the start of Hand #5. However, he bowed out of the hand part way through, allowing Grafton to take another pot down.
Hands #6, #7, and #8 saw Talbot win a small pot, Grafton show down (and lose) a small pot to Benger, and Kovalski win a small pot against Ho to take home a token.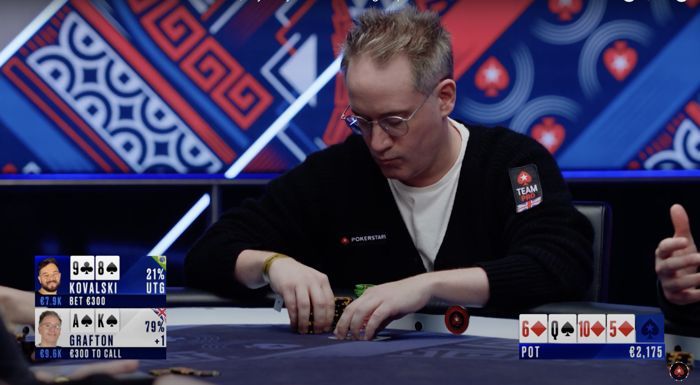 With everyone qualified for the bomb pot, Hand #9 didn't need to be big, but Botez had caught her breath and picked up K♥K♣. So, when Tablot bet and Grafton raised, she three-bet to €1,200 and Grafton called with A♥8♥.
The flop came down 10♦8♦Q♦ and Botez asked for a count. The pot was €2,550 and Grafton's stack "about nine thousand."
Botez shoved and Grafton folded.
After Botez showed the kings, Grafton complimented her table talk, saying "You almost talked me into doing something very stupid."
Bomb Pot
Botez started the bomb pot on the button.
All six players had qualified, so the pot was €600. With the antes settled, the dealer dealt out the player's hands and the flop in one go.
| Position | Player | Hand |
| --- | --- | --- |
| Small Blind | Maria Ho | 10♣4♣ |
| Big Blind | Parker Talbot | 10♦5♥ |
| UTG | Fabiano Kovalski | 8♣6♠ |
| Middle | Sam Grafton | 9♣3♣ |
| Cutoff | Griffin Benger | K♣4♦ |
| Dealer | Alexandra Botez | J♣10♥ |
On the flop of 6♣Q♦K♠, Benger was the favorite, with equity of about 45%. However, Botez had an open-ended straight draw putting her not far behind with 31%.
Benger bet €40, Botez called, and so did Kovalski with his bottom pair.
Given her run over the last two episodes, it should have been no surprise when the turn was the A♥, giving Botez the straight and locking up her third mystery prize.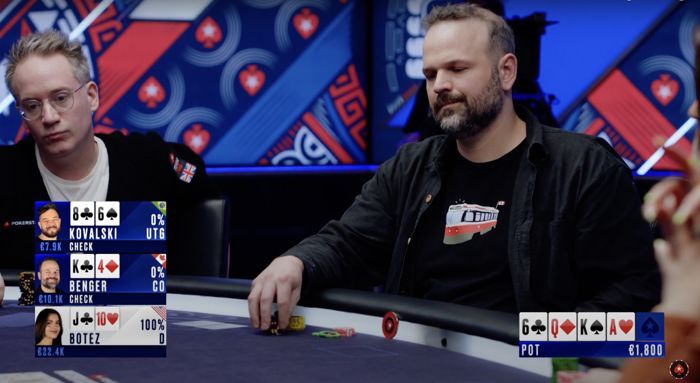 All that remained was to see how much more she could take off of Benger and Kovalski.
Botez bet €700 and Kovalski folded. Benger called and when the river came down the 5♣ he was unable to get away from Botez's bet of €2,000 into the pot of €3,200. Botez showed the straight and raked in the €7,200 in chips while Hartigan prepared the mystery bounty envelopes for her.
Standings at the End of Round 3
| Rank | Player | Stack | Profit | Bounties |
| --- | --- | --- | --- | --- |
| 1 | Alexandra Botez | €27,000 | +€15,175 | +€1,500 cash & a €5,300 EPT ticket |
| 2 | Parker Talbot | €13,400 | +€3,400 | – |
| 3 | Sam Grafton | €9,225 | -€775 | – |
| 4 | Maria Ho | €12,250 | -€1,750 | – |
| 5 | Griffin Benger | €10,000 | -€5,750 | – |
| 6 | Fabiano Kovalski | €10,000 | -€12,125 |   |
Botez pulled another cash bounty, this time for €1,000. However, it was the challenge card that might be more profitable for her. For all nine preliminary hands of Episode 4, Botez will be allowed to discard and draw a hole card before the flop.
The table was not pleased. "She's already Wonder Woman and now she can shoot lasers from her eyes," Talbot said as Grafton held out his chips for Botez to take now instead of later.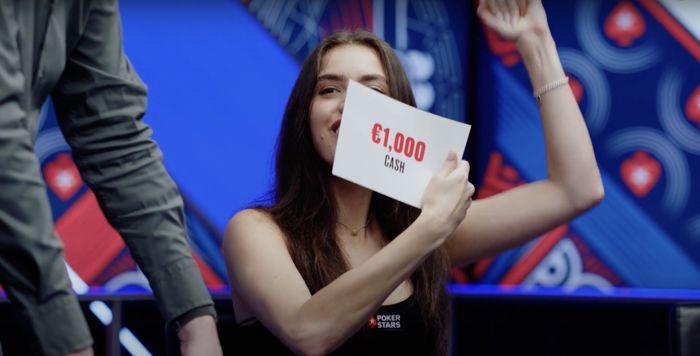 If you want to see how all this plays out, tune in to the PokerStars Central or PokerStars UK Youtube channels where Episode 4 will be going up on September 30 at 3:00 p.m. CEST for free.
Click Here To Download PokerStars Now!
Use the PokerNews Online Tournament Calendar to Plan Your Action
Our free-to-use tool has several filters that make finding your perfect poker tournament, whether a WCOOP event or otherwise, a breeze. The PokerNews Online Tournament Calendar allows you to register for tournaments with a couple of mouse clicks, so you need never miss out again.